IR Magazine's first report into the use of technology in IR examines how investor relations teams are handling their technology budgets, where they plan to focus their resources and how happy they are with the tools they are using.
Find out the following: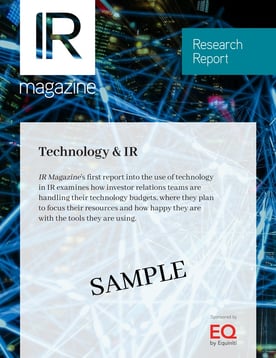 In which areas are IR budgets spent on technology?

How much do IR departments spend on technology?

Which areas have the greatest need for more technology resources/tools?

How satisfied are IR departments with the technology they use?

How recently have companies redesigned their IR website?
Download your free sample
You can download your free sample of this report by entering your details on the right. The sample will be sent to the email address you provide.
Interested in downloading the full report?
To access the full report, plus all our reports throughout the year and lots more great IR content, you'll require a subscription to IR Magazine. Take a look at our subscriptions page to find out more.