Based on responses from almost 600 IR professionals and senior management
members,
IR Objectives & Challenges
examines top IR goals for 2018, from
investor targeting to gathering feedback or increasing research coverage, as well
as
the key issues the community has been grappling with over the past year. The
report breaks down the data by region, cap size and sector, and offers verbatim
comments from the IR community and case studies.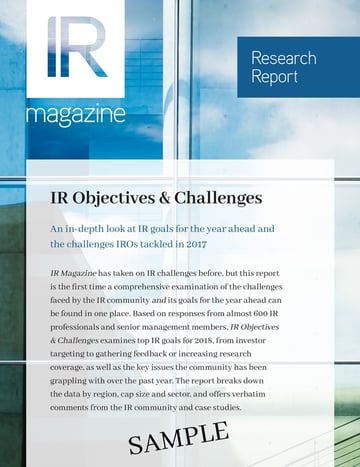 The report looks in detail at the following obje
ctives and provides advice on how
to achieve these goals:
Target new investors

Enhance engagement with existing shareholders

Increase international share ownership

Increase investor feedback

Improve disclosure

Increase research coverage

Provide greater management accessibility

Increase domestic share ownership


Raise capital
Download your free sample
You can download your free sample of this report by entering your details on the right. The sample will be sent to the email address you provide.
Interested in downloading the full report?
To access the full report, plus all our reports throughout the year and lots more great IR content, you'll require a subscription to IR Magazine. Take a look at our subscriptions page to find out more.